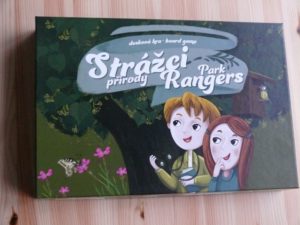 Park rangers meet each other in the morning at Park Headquarters. There are already several tasks in the field awaiting a solution.  The tasks have to be split, the equipment distributed and everyone goes on their way. Who accompanies children on a trip? Who is going to repair the bench? And who will help the injured otter? Some of the tasks can be solved by a single ranger, while others require more. Will we succeed before even more tasks are upon us?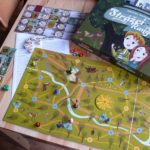 Number of players: 1-8
Recommended age: since 8 years, however younger children can play under adult leadership
Game modes: 1/ players together against the game, 2/ players against each other
Goal: to solve in time all the tasks that appear in the park / to collect the most points from solved tasks
Game priciple: Figure movement as well as task solution is done through throwing dice, therefore all players have the same chance to win regardless to their age or experience.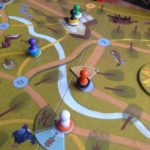 Difficulty: The game is easy in its basics, however the difficulty can be increased several ways – e. g. by equipment (first aid kit, tools…) needed for solution of tasks or with proposed alteration of rules.
Duration of play: In average the game lasts 60 minutes. Reserve more time for first playing to get familiar with the game rules. You can also set the time when the game ends.
Design: All components wear nice paintings – box, game board representing a National Park and task cards and tokens with a picture illustrating a specific task. All paintings are from Klára Kubešová (Amélka).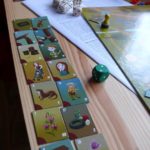 As in real life: The tasks are inspired by real field nature conservation. Among them you can find stories presented at our webpage. As park visistors we often do not spot results of rangers activities, however the game makes everone find that care for the nature requires effort. Rangers work in the field is very diverse and sometimes there is so much work that we have to choose what we can manage. Some tasks are easy and at the end of the game someone may want to get outside and participate in real work.
And who is the park ranger? The game will explain to you that they are conservationists who work mostly in the field. They take care not only of nature, but of visitors as well. Visitors face nice experience in nature thanks to their work.
How much does the game cost? You can have the English version for 34 EUR. Contact us via info@malystrazce.cz to discuss shipping to your country. We have discounts for re-sellers.
Buy in e-shop
Have you already got the game and have further questions? Check the game's FAQ and tips page.