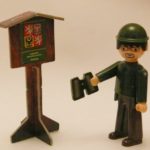 Ahoy, I am Jirka, Little Ranger. I am here to explain who rangers are and what they do.
you can NOT find me in ordinary shops, I was created on a contract from one Czech ranger
I was produced in a limited edition 1.000 pcs
there are also binoculars and a protected area signpost in my box
you can cut out a tourist map that fits well to my hand from a leaflet with a short photocartoon
I would be glad to serve anyone from 3 years interested in nature conservation
I was baptised at the Czech National Ranger Meeting in March, 2017 held in the Beskydy Protected Landscape Area, my godfather is ranger Jirka Lehký from the Nature Conservation Agency of the Czech Republic
you can play with me both at home and outside (I really love to go to the nature, especially with another Pokeetos)
you can buy me in the e-shop here, in good visitor centres in Czech protected areas and at special events I participate in
Here are more reasons to get me to your home:
Pokeeto is 100% Czech made (no China)
Pokeeto/Igráček is a traditional trade mark and a symbol of persistence
Ranger Jirka gets children in touch with nature conservation in a very natural way of play
he awakes interest in ranger service
he motivates for an active participation in nature conservation
he supports children imagination within creating of play stories
he supports creativity with enclosed paint-and-cut tourist map and other accessories that could be created
long play, small occupied space
How much do I cost? You can have me with the above mentioned accessories for 6 EUR. Contact my parents via info@malystrazce.cz to discuss shipping to your country. We have discounts for re-sellers.
Buy in e-shop